Besides the business needs, the new D-MAX 2018 is also shared by business customers with the experience of choosing as a multipurpose pickup for both "do-and-play", with dynamic New Ddi Blue Power engine and many improvements in interior, exterior and outstanding safety features.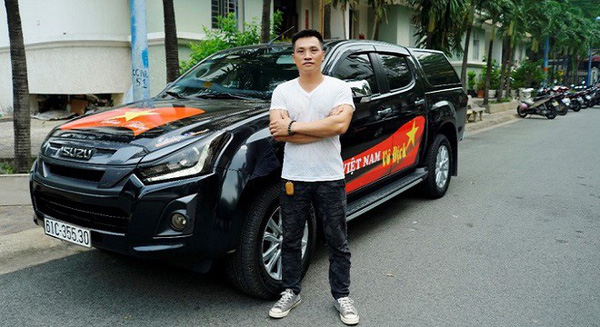 Advanced technology engine, superior fuel economy
The reason why business customers choosing Isuzu D-MAX new 2018 is D-MAX is the the main vehicle for their business and besides the demand for personal vehicles, this is the car that always affirms a special position crush those who love pickup.
First of all, it include the engine 1.9 Ddi Blue Power with advanced technology, maximum power and torque (150 PS / 350 Nm) larger than the previous 2.5L engine (136 PS / 320 Nm). It helps the car to operate vigorously, save fuel and improve noise.
Sharing about the new D-MAX version of the 1.9L Ddi Blue Power 4×2 AT purchased, Mr. Nguyen Hoang Thanh (Binh Duong) shared: "Although the 1.9L engine is smaller than the old version but the car work better. Vehicles equipped with a new 6-speed gearbox, Turbo technology changes so that it accelerates well, feels excited to drive ". The fuel economy of the car is also impressive. Recently, through a trip from Ho Chi Minh City to Da Lat with his family, Mr. Nguyen Hoang Thanh said that the average fuel consumption is 4.7 liters / 100km in the condition that the vehicle carries 05 people and many luggage.
Experience the new interior exterior design of the new D-MAX
About the exterior of the car, Mr. Nguyen Huu Dang Thong (Phu Nhuan District, Ho Chi Minh City) shared: T likes the tough beauty of every detail of the new D-MAX version, especially the Bi-LED light cluster. The new Projector integrates LED running lights to increase the lighting intensity, both eye-catching and car-styling. This new version is also equipped with 18-inch alloy wheels, larger than the previous one, so it looks better.
He confided: "I used to drive a German passenger cars, when I moved to drive D-MAX my daughter, she happily said," The car is wide and I like it! ". Good sound insulation, noise reduction and running through speed bumps are also very few noises echoing into the cabin ".
The interior with many high-class facilities also brings Mr. Thong a surprise when he decided to buy the D-MAX 1.9 4×2 AT 2018 as: smart start button, luxurious leather seats and electric driver 6-way, high-end ISUZU Theater System entertainment system with 8-inch touchscreen display multi-information, USB connection, Bluetooth. In addition, there are also two USB ports (5V / 2.1A) for fast charging mobile phones and other mobile devices very handy. All give him and his family a comfortable leisure time throughout the journey.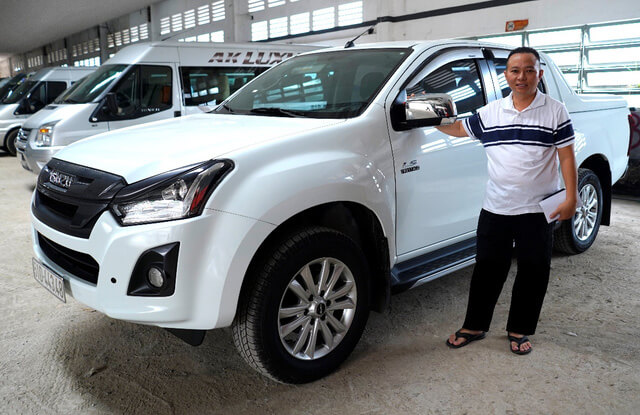 High-quality safety system and perfect loading capacity
Mr. Tran Phuong Nguyen (Cu Chi District, Ho Chi Minh City) was impressed with the safety systems equipped on the new version D-MAX, which are usually only available on high-class passenger cars to help the vehicle operate safely and help protect people in the car better such as: 06 airbags, traction control electronic (ESC) system (TCS), horizontal slope departure assistance system (HSA), support system downhill (HDC) and intelligent braking (BOS).
In addition, he also shared: "In my work, I often carry glasses, wide D-MAX bodywork can carry a lot of goods. At the time of carrying partners, colleagues, friends, or relatives, everyone compliments the big and comfortable car cabin, many people still sit unimpaired, the air conditioner chill fast and deep. "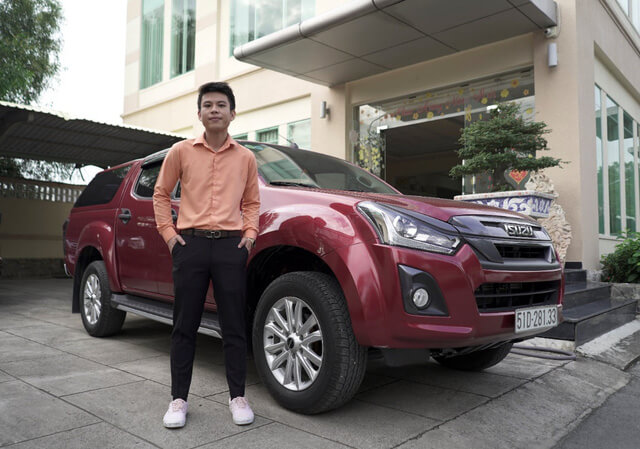 The new D-MAX 2018 has conquered and satisfied many demanding customers thanks to the advanced technology of Ddi Blue Power, which helps the car to operate with high efficiency, high power efficiency and optimal fuel economy. Moreover, the car also possesses many exquisite and beautiful interior and exterior designs with many unique accents to increase the comfort, luxury and comfort for customers. Besides, customers who buy cars also get 5-year or 200,000 km warranty and professional after-sales service of D SQUARE Dealer system nationwide.